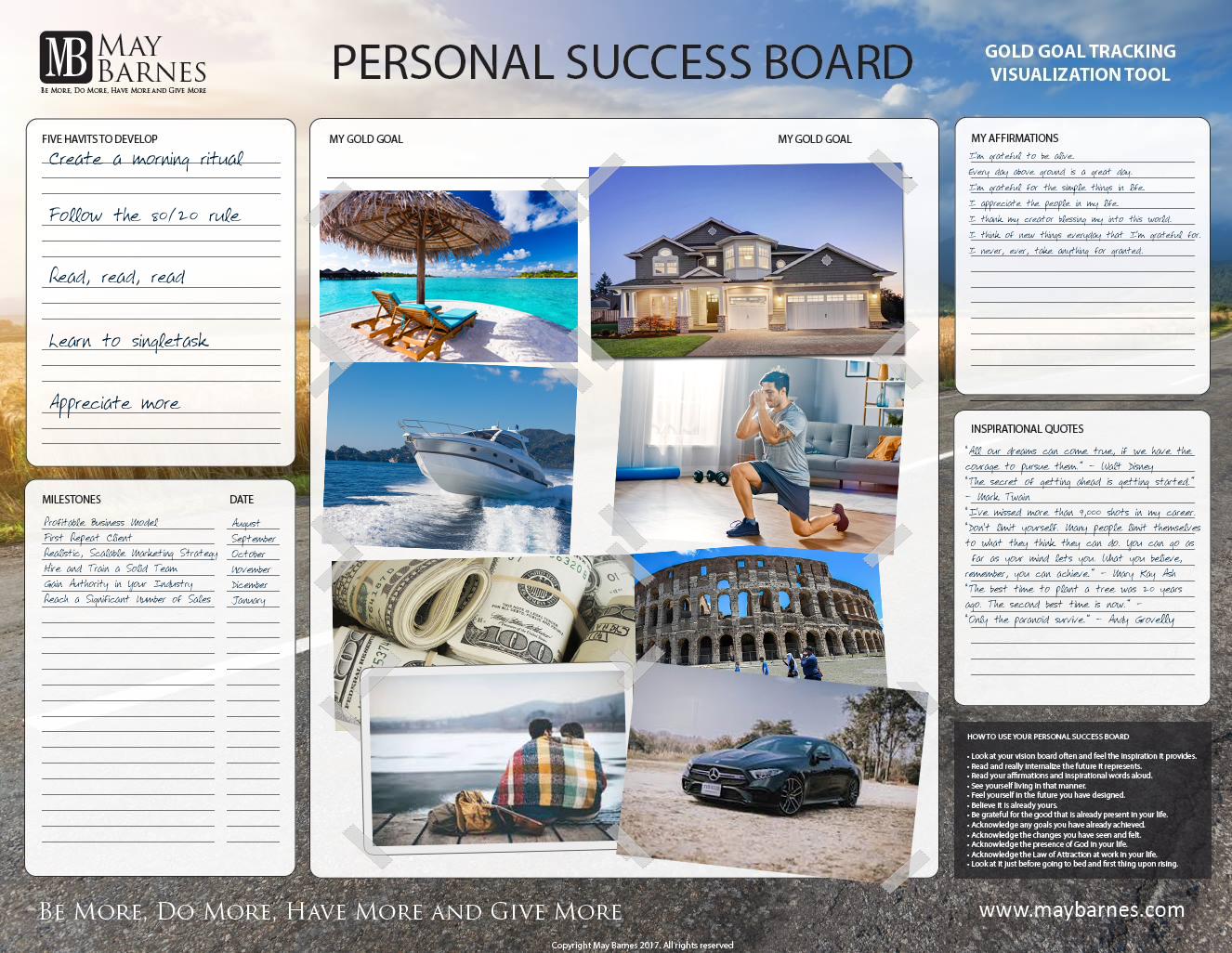 Mouse over to see the back
Attract All Your Dreams & Speed Up Manifestations With Your Personalized Vision Board
With your personalized Vision Board, you'll usher your dreams into existence quicker than ever by stepping into that rendition of you who has already attained all that you desire!
When you create your Vision Board, it will display your true desires and bring it to life. Your Vision Board should be placed where you see it often. Each time you glance at your Vision Board, you are enjoying visualization moments. The more you do, the more intimately involved you become with those thoughts, feelings and dreams, brining them to the forefront of your mind.
YOUR DOUBLE-SIDED VISION BOARD – TWO FOR THE PRICE OF ONE, SO YOU'LLNEVER STOP DREAMING
Dream Big and Aim High by continually setting goals that will open up endless possibilities – continue writing goals down, as unwritten goals are just dreams. Putting them in writing coupled with visualizing them, will change your life. Having constantly greater goals with keep your momentum going.
$27.97 USD
VISION BOARDS WORK - LET'S CREATE ONE
Let's highlight a few of the many benefits you'll enjoy with your Vision Board.
Magnify manifestations by feeling the energy of your "Desired Self" – that rendition of you who already sees and feels your desired level of success.
Create lasting happiness by growing your expectations in all aspects of your life.
Release your imagination and visualize what is genuinely available to you.
Heighten your mindset and get inspired everyday.
Stay in touch with your inner power and allow that gifted power to exemplify your full potential.
Use affirmations to remain in a positive self-image to continually capturing your Dreams.
Enjoy loads of enjoyment, laughter and pleasure choosing and creating your very own Dream Vision that will be your visual guide to all you Desire.
Q: What should I put on my vision board?
A: Anything that inspires and motivates you that enables you to see and feel its outcome. You want your vision board to bring everything on it to life. Prior to starting your Vision Board, it's good to be clear on what your goals are in various areas of your life (relationships, career, finances, home, travel, personal growth, spirituality, social life, education and health. You need not include them all!
Q: How often should I re-do or update my vision board?
A: Whenever it feels right. You can leave some blank spaces to add to your vision board as new things may appear in your world. You can also rearrange things as priorities may change as you accomplish various items you've put on your Vision Board. This is your Board with Your Visions. You will know with certainty, when the time comes to escalate or change your Visions.
When working on your Vision Board, make sure you have set the mood. Clear your space, turn on some relaxing music, and thoroughly enjoy and believe everything you are putting on your Vision Board will come to fruition. Seeing believing and feeling are the Secrets to Manifesting your Dreams and Goals.
When it comes to actually putting your stuff on the board, there is no right or wrong way to make it. Some folks like to leave space between each chosen piece as they don't like clutter, whereas other folks like to bring everything together and often overlap each piece on the Vision Board. It's Your Vision Board so make it so.
1 - Five habits I will Develop
Habits are essential to our health, well being, happiness and success. They can make or break our chances of achieving and maintaining our lifestyle goals and dreams such as sticking to an eating plan, exercising regularly, managing medical conditions, managing business and personal successes while increasing quality of life and promoting longevity.
HABITS SAMPLES
2 - Milestones and Completion Date
A milestone is a marker or future marker in your goal usually signifies a change or stage in development of that goal. Milestones are powerful because they show key dates or events and map forward movement in your Goal. Milestones act as signposts through the course of your Goal, helping ensure you stay on track.
3 - My Gold Goal
MAKE IT BIG AND MAKE IT BEAUTIFUL THEN TRULY BELIEVE, BECOME EMOTIONALLY INVOLVED, VISUALIZE, TAKE ACTION AND IT IS YOURS!
4 - My Visual Inspirations
Visual Inspiration awakens us to new possibilities. They allow you to transcend your ordinary experiences and limitations. Visual Inspirations propel us from apathy to possibility, and transforms the way we perceive our own unique capabilities and dreams. Surround yourself with what inspires you and trust what inspires you and let it guide your actions and your visual inspirations. Lose yourself in visions you love and be inspired. We all have different perceptions and experiences of visual inspiration. Know what Yours are!
Visual Inspiration is everywhere – from the words of your favourite writer to the blooms and leaves on your morning walk. You just need to open your eyes and soul to what you are drawn to and put those visual images on your Vision Board and make sure you FEEL their impact because Feeling is the Secret to having your dreams materialize
5 - My Affirmations
Positive statements that will definitely help you to challenge and overcome self-sabotaging or negative thoughts and self-talk. When you repeat them often, believe in them and feel the affirmation you will notice positive changes.
AFFIRMATION SAMPLES
6 - Inspirational Quotes
Inspirational quotes are meant to inspire action. They have the definite potential of encouraging you to become the best version of yourself. Read them often and when you need a push to work towards your goals. Inspirational quotes will motivate you to reach your peak performance and realize your Goals and Dreams.
QUOTE SAMPLES
"To succeed, you need to find something to hold on to, something to motivate you, something to inspire you. "
Tony Dorsett.
What is a Gold Goal Card ?
Imagine waking up living your dream life, with your idea unfolded and goal met…It can all start right now !!
Ready to Release your old patterns and obstacles around abundance, dreams and worthiness – Want to live the life you've always dreamed of. Let's make it happen. Your "Gold Goal Card" can act as your Gold Credit Card to achieve your very own personalized, goals, dreams – no limits have to be placed on this "Gold Goal Card"
The Objective of the Gold Goal Card Is.
The GOLD GOAL CARD is even better than setting your goal in stone… Imagine having your goals engraved on a Gold Card instead of a piece of paper – it feels luxurious and beautiful, this alters your vibration and your mental state when you hold it in your hand. It will allow you to consciously and subconsciously step into the reality you want to experience… and it flavours your thoughts, feelings and actions that you will take throughout the day, each and every day. That lofty goal of yours instantly becomes tangible. This precious Gold Goal Card will be a treasured reminder of what you want and can have, keep it safe and with you, it's very private and truly yours.
How do I Order One?
It is so darn easy to order your Gold Goal card – simply complete the form below. – You will want to give some thought to your "Gold Goal'. It's the one that could be exciting and fearful at the same time, it could make you question its attainment – NO NEED TO KNOW THE "HOW" – do yourself a favour, write out that Gold Goal, order the card, and with your focused action, watch how the Universe starts to send everything you need your way. No, it's not magic, but it will certainly feel that way – it's the science of success at work with you.